It seems like just the other day the Minnesota Vikings were one Brett Favre overtime interception away in the 2009 NFC title game from playing in Super Bowl XLIV. Instead, it was the New Orleans Saints looking down from the top of the mountain, and Brett Favre looking at the end of his career. Since then the Minnesota Vikings have failed to even reach the ten win mark, going (6-10) in 2010 and (3-13) just a season ago. 
2011 saw the start of a new reign in Minnesota as defensive coordinator Leslie Frazier took over the helm as head coach in the Twin Cities. The drafting of Florida State quarterback Christian Ponder was also thought to spark the offense, which seemed to struggle under veteran quarterback Tarvaris Jackson early in the season. However, by the end of the season the franchise tied a club record for the worst record in a single year.
A torn ACL also ended the season of superstar running back Adrian Peterson, who looks to make a strong comeback for the upcoming year. 4th overall draft selection Matt Kalil will also help try to anchor an offensive line that ranked as one of the worst in the National Football League just a season ago.
The Vikings look to be headed down a slippery slope for yet another season, but could be a surprise pick coming out of the NFC North if Peterson can stay healthy and the offense becomes more balanced. Although, it will be challenging having two playoff contenders within the division, the Packers and Bears.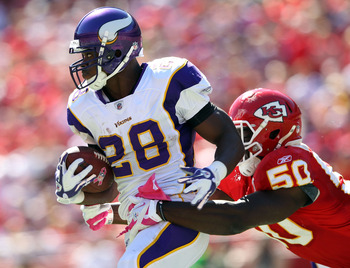 Prediction: (2-14)
Tags:
NFL
Football
Preseason
Ranking
31
Minnesota Vikings
Vikings
Brett Favre
Leslie Frazier
Christian Ponder
Adrian Peterson
ACL
Injury
Matt Kalil
Sports
News